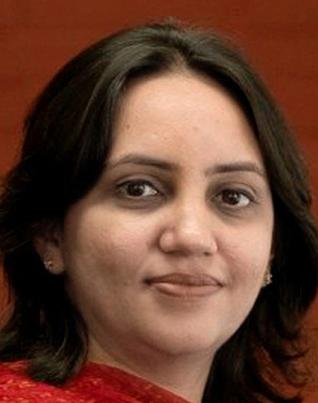 Shalini Chakravorty, Country Manager of Hill and Associates in India is one of the most influential women professionals in the antifraud domain. Shalini, in exclusive interview with Apurva Joshi – CEO of Fraudexpress shared some of her thoughts on the antifraud profession in India
CA by profession, Shalini has experience of 12 years. She is also a US Certified Fraud Examiner. Shalini and her team has worked on several fraud examination and forensic accounting  in India and abroad. Shalini has also completed Accelerated Management Program from Indian School Of Business, Hyderabad – 2005.
Forensic Accounting assignments are very close to my heart as this is my core expertise at Hill & Associates. Shalini starts her interview. She is very skeptical about disclosing the names of her clients as she mentions that she have signed Non Disclosure Agreement. The Clients broadly include fortune 500 multinational companies from US and Europe.
When Apurva asked her about her previous experiences with the antifraud publications she mentioned that there are not may publications in the antifraud domain. Other wise she has contributed her thoughts in Business Standard and Bizxchnage.in.
This interview lasted for an hour and Apurva went on posing various questions to Shalini and here is how the interview took shape.
When and how did you start in anti-fraud and forensic functions field?
In the year 2004. After Joining Hill & Associates. Transitioned from a finance professional to Fraud examiner.
How do you define anti-fraud and forensic functions field?
Anti Fraud and forensic function involve investigation and documenting fraud including financial fraud. Forensic Accounting, however is a broader term and it involves support  to legal teams in terms of providing the analysis on the financial evidences.
What is the scope of anti-fraud and forensic functions field in India?
Shalini feels very passionate about this profession, especially the forensic accounting and terms it as  upcoming and very promising career she remembers a case where she applied forensic accounting techniques in resolving the disputes between the Management and the Union of the company. Forensic Accounting has got vast applications.
What is your estimate of the forensic accounting and antifraud industry in India ?
Shalini is quite pessimistic and feels that there is a need to have more professionals who are Certified as the Forensic Accountants and according to her estimate there might be roughly 200 professionals whom she know. However adding those in Big four accounting firms it could be even 400. But it is not a significant number and the internal auditors should be trained on the forensic accounting techniques.
What are the career opportunities that you see in this domain?
Multiple. The fraud has reached an alarming situation In India. It is vital across industry to prevent fraud rather than being reactive. Interestingly, Companies have recognized this. Forensic approach is interesting, investigations are interesting but preventive approach will create more job opportunities.