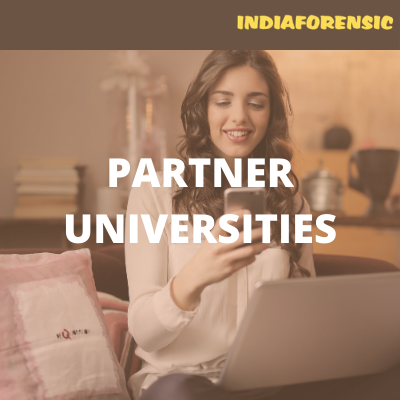 University Collaboration Initiative of Indiaforensic is one of the most important aspects of building the future financial crime warriors. It is the first step towards building the ethical society.
We have signed exclusive MoUs and Partnerships with different and renowned Universities and Academic Institutions in India.
Indiaforensic puts forensic accounting faculties in touch with educational institutions through the University Collaboration Program. The lead faculty who runs the program has to be the Certified Forensic Accounting Professional.
This partnership helps to arm your educational institute with anti-fraud knowledge and skills to boost the employment opportunities of the students effectively after graduation by participating in forensic accounting courses throughout the world.
Some of our renowned partners are
NSE Academy – NSE Academy is the wholly owned subsidiary of India's biggest stock exchange. Riskpro Management Consulting, which holds the brand Indiaforensic offers the Certification in Stock Market Forensic Accounting through this academic partnership.
Vishwakarma University – This is a newly formed Pune based university, which works closely with Riskpro Management Consulting (Parent Company of Indiaforensic).
Indira Institute – Started in 1994, Indira Institute is one of the oldest MBA Colleges in Pune. Indira Institute offers the course on forensic accounting in association with Riskpro Management Consulting (Parent Company of Indiaforensic).
MMCOE – Indiaforensic has the dedicated digital forensic lab in the Marathwada Mitra Mandal College of Engineering Pune. The objective of setting up of this lab is to promote entrepreneurship and spread awareness about the digital forensics.
If you are keen to offer forensic accounting as the subject in your syllabus, please feel free to contact us. Additionally you can also read