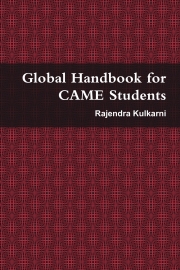 Global Handbook for CAME Students is the ideal study guide for students pursuing the Certified Anti-Money Laundering Expert (CAME) Certification. This book is ideal for preparation of CAME exams. Focused on the concepts, this book helps the students to have a quick look at the trends in Anti Money Laundering. This handbook is the additional resource to the Anti Money Laundering Manual and acts as a quick reference guide.
This handbook comprises of topics relating to Money Laundering practices and the investigative and legislative procedures revolving around it. Money laundering is a complex and deep-rooted menace which needs targeted efforts to detect and investigate.
Various topics such as Trade based Money Laundering, importance of Know Your Customer Norms, effect of demonetisation on Money Laundering and the global regulations monitoring this criminal activity are explained in detail in this handbook.
Special emphasis is laid on the role of technology and digital money laundering. Also, the Foreign Account Tax Compliance Act (FATCA) is covered under this module.
This is one of the most essential book in the basket of the tools available for the students of CAME to clear the examination.