KYC regulations have become important in the financial services sector due to the ever-increasing fraud and money laundering activities. To avail of any credit, loan, or remittance service consumers first provide their personal details. It has also become mandatory to provide the documents that verify your address and identity.
As the technology evolves Wallets, Payment Gateways, and also fintech companies comply with the KYC requirements. Banks, Insurers, Telecom Companies, and Gaming companies need to complete KYC. It is now becoming essential to verify the identity of the customers on a periodic basis. Besides, E-commerce companies have started realizing the need of understanding their customer activities. This requires a lot of trained manpower to look into various financial transactions.
Certified Experts help in building compliance teams of various financial services companies. These certified professionals get their expertise in customer KYC verification to the organization. It is one of the best Certification options for entry-level professionals.
KYC Meaning in Business
In our daily dealings, we hear the term KYC quite often. But what is it exactly? KYC in Banking means Know Your Client or Know Your Customer. It is a control mechanism for financial institutions. Using this process banks, financial organizations, and other businesses collect information about existing and new customers. Moreover, KYC Process helps them to identify and avoid risks.
Certified KYC Expert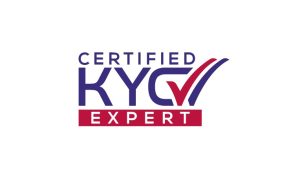 Certified KYC Expert (CKYCE) is an online training with certificate program. In the wake of these developments, a CKYCE plays a significant role in building the capacity of the AML compliance team. Moreover, these Certified Members help in building KYC processes of financial institutions, fintech, and e-commerce companies. In order to help your teams further mitigate the money laundering risks posed by the customers, Indiaforensic designed this extensive Know Your Customer / Customer Due Diligence certification (KYC CDD) program.
This certification program helps to improve skills for customer due diligence by covering some of the aspects like
how to better assess
what you need to know,
explore where to find the answers,
organize your customer information in a meaningful way
present your findings
This is an ideal course for compliance professionals early in their careers. Moreover, this certification course is offered along with the Risk Based Approach to AML and KYC. This video-based training program gives a broader idea of the financial crimes domain.
The certification is aimed at enhancing the quality of compliance. Additionally, there are directions from RBI in combating illegal activity and the movement of funds through the use of banking channels. Verify the Reserve Bank of India Master Circular on KYC for more information.
KYC and Anti Money Laundering (AML) operations have assumed added importance owing to the security risk that it poses to the country, and also to maintain the financial health of the institutions.
Know about the money laundering process & methods
Learn KYC guidelines
Know how to combat illegal activities
Understand legislation & international cooperation
Learn about customer risk and transaction monitoring
Customer Identification Program
The Customer Identification Program (CIP) is a crucial process for financial institutions. It helps in the verification of the customer's identity.
CIP process has three different methods: online, offline, or using the Unique ID of the country.
The online method involves the use of electronic means to verify the customer's identity, while the offline method involves verifying the customer's identity through physical documents.
In India, the Unique ID used for the completion of the process is Aadhar, which is a 12-digit unique identification number issued by the Unique Identification Authority of India (UIDAI).
Aadhar is one of the most important and widely used identification documents in India. It contains biometric and demographic data of an individual and is linked to various government schemes and services.
The use of Aadhar has simplified the identification process in the CIP process and reduced the time and effort required to complete the verification process. Aadhar has also helped in reducing instances of identity theft and fraud as biometric data stored in Aadhar is difficult to forge or duplicate. Furthermore, the CKYCE program covers many more topics.
Who Should Do CKYCE?
Though there is no restriction on who should do this course, it is most beneficial for entry-level professionals working for
Banking Companies
Non-Banking Finance Companies
Co-operative Banks
Captive Units of MNC Banks
Fintech Companies
Payment Gateways
Wallet Companies
Undertaking KYC CDD training also prepares compliance teams to meet increasing regulatory expectations. It helps them to establish a fundamental baseline of knowledge in the AML KYC Domain. We designed this program for entry-level professionals only.
KYC Documents
An independent and reliable source of documents, data, or information performs KYC checks. Every client also provides documents to prove identity and address. Additionally, ID card verification, face verification, document verification, and biometric verification are some of the KYC Requirements.
In May 2018, the U.S. Financial Crimes Enforcement Network further added a new requirement for banks to identify beneficial owners. Hence, every corporate entity provides information about the real persons who run the business.
eKYC also refers to the capture of information from IDs. eKYC covers the extraction of digital data from government-issued smart IDs such as Aadhar or Driving Licenses with a physical presence, or the use of certified digital identities and facial recognition for online identity verification.
Tatvita Analytics, an Indian Analytical portal, states that CKYCE is one of the top certification courses. Additionally, it asserts that CKYCE is one of the few online certificate courses in India. This professional certificate program facilitates entry-level professionals to enter the AML Domain.
However, this program is different from Indiaforensic's anti-money laundering certification - "CAME". Money Laundering is a broader term that encompasses the KYC process. Experienced financial crime professionals and those dealing with transaction monitoring, anti-money laundering compliances, or AML Investigations should consider the Certified Anti-Money Laundering Expert program.
KYC Guide: A Comprehensive Handbook for Certified Experts
Introducing the "KYC Guide: A Comprehensive Handbook for Certified Experts" – the ultimate resource for professionals and enthusiasts seeking mastery in Know Your Customer (KYC) practices. This indispensable guide takes you on a journey through the intricacies of KYC, offering in-depth insights into its essential principles and practical applications. Authored by experts in the field, this book is your go-to reference for gaining a comprehensive understanding of KYC, critical for maintaining financial integrity and safeguarding against illicit activities. Whether you're an aspiring expert or a seasoned professional, this handbook provides a wealth of knowledge, best practices, and real-world case studies, making it an invaluable companion for anyone striving for excellence in the world of compliance.
Dive into the world of KYC and enhance your expertise with this definitive guide, available now on Flipkart. Get your copy and stay ahead in the dynamic landscape of KYC regulations and practices.
To know more about this course, kindly get in touch with our education team at education[at] indiaforensic[dot]com, or please feel free to call us on +91-9766594401