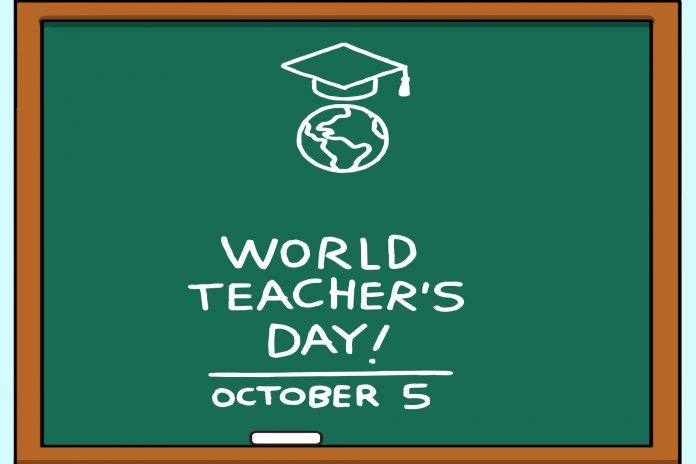 Every year on 5th October, World Teachers' Day is celebrated as the anniversary of the adoption of the UNESCO Recommendation concerning the Status of Teachers. This Recommendation sets benchmarks regarding the rights and responsibilities of teachers and standards for their initial preparation and further education, recruitment, employment, and teaching and learning conditions.
The recent COVID-19 pandemic and associated school closures directly affected 1.5 billion students at all levels and 63 million primary and secondary teachers.
In many cases, teachers were required to conduct online learning but lacked basic ICT tools in their own homes. In many places teachers also found themselves unable to continue education because many households lacked the technology and connectivity to allow students to learn online.

After the initial hurdles, education system is getting back on track. Teachers have found the work around and the students have learned to cope up with the situation. Post COVID situation is expected to give a push to online learning.
Celebrating World Teachers Day 2020
Indiaforensic, is all set to adopt the new changes. Forensic Accounting training is also expected to change the path of future. In the wake of pandemic and to align with the objectives of UNESCO, we are celebrating the World Teachers Day 2020 by
Announcing a University Collaboration Program to empower the teachers willing to offer the degree or certification course in their university. Check out more details
Announcing the scholarship/ award for the best student research. During this pandemic Indiaforensic worked with numerous students and assigned them different research projects. Check out more details
Announcing a flat discount on registration fees for three days starting on 5th October and ending on 8th October. Registrants can use the coupon code 05OCT2020. This coupon can be used on following programs
Empowering the teachers
On the occasion of the teachers day we are announcing a new program for the teachers across the world. We would be offering all the resources required for the teachers to start the program on forensic accounting in their colleges, universities or autonomous institutions. Teachers would not be only certified but would also be equipped with the training resources.