Description
The banking sector is one of the highest employment generators in the Indian services sector. Banking certification is crucial for getting employment in banks. Banking professionals have diverse roles and responsibilities based on their designations. Many in the credit teams do financial planning or financial modeling. Few are financial analysts.
But there are some roles for risk assessment. They perform due diligence on borrowers and identify the red flags of fraud in the borrower accounts. They are Certified Bank Forensic Accountants.
Who is CBFA?
Certified Bank Forensic Accountant (CBFA) is an employee of a banking or non-banking finance company, mutual fund, fintech company professional, or consultant who has undergone training to become an expert in the domain of forensic accounting in the banking sector. They are also experts in the subjects like forensic auditing, litigation support, and investigative accounting.
Typically Certified Bank Forensic Accountants work with the Fraud Control Unit or Risk Containment Units of the banks. They have a background of working as loan officers or tellers in banks. Certified Bank Forensic Accountant is becoming a preferred banking certification because of its selection of topics. It is a powerful online training with certificate.
It is important to note that, CBFA is one of the foremost certification courses in forensic accounting, curated by Indiaforensic and presented by Riskpro Learning, and focuses on frauds in banking and financial institutions.
In the wake of the growing banking frauds and the media coverage of the frauds in Punjab National Bank, CBFA is becoming important certification. Public Sector banks in India were found to be under significant pressure of growing non-performing assets. Many of these loans were due to the negligence of the growing indicators of the stress on the borrower accounts.
Starting in 2006, this was one of the first offerings from Indiaforensic. Reserve Bank of India regularly issues guidance on how to report fraud. These RBI master circulars don't form part of the study material or the syllabus but the bankers need to understand them to report the incidences.
Certified Bank Forensic Accountant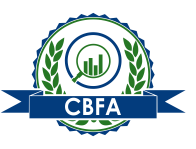 CBFA is a designation curated by the Indiaforensic Center of Studies and presented by Riskpro Learning with a presence in more than 7 countries including Nigeria, Oman, Qatar, UAE, Uganda, and others.
Certified Bank Forensic Accountant is a unique certification that offers several benefits to aspirants. It not only restricts itself to loan frauds but also discusses technology scams. It goes on to discuss some of the trending schemes of frauds like sim swap frauds, vishing, etc.
On successful completion of the examination, aspirants can add the title of Certified Bank Forensic Accountant (CBFA) after their name. The examination consists of multiple-choice questions. Not to mention, this course is exhaustive and covers all the aspects from Fraud Investigation to market intelligence.
Features of the Banking Certification Course
Interactive and digital learning experience course
Assessed by an online exam comprising 100 multiple choice questions with a pass mark of 75%.
Examinations can be taken at any time. Results will be available immediately. Learners also have the option to re-take the exams three times on un-successful attempts;
The module costs Rs.25000 but it includes all your fees except the re-examination fee. Re-examination fees are Rs.5000 per attempt.
All students will have access to a video learning course repository and online live sessions by the instructor.
Syllabus for CBFA
The syllabus of CBFA is exhaustive. And it covers a wide number of practical case studies on bank frauds. Moreover, the curriculum is dynamic and we update it frequently. 6 weeks of Live training programs covers 6 modules and 2 live case study sessions. Following are some topics covered in the syllabus of the Certified Bank Forensic Accountant Program:
Introduction to Forensic Accounting
Fraud and Failure (BFSI Sector)
Investigative process
Advanced Investigative Techniques
Report Writing Skills
Litigation Framework
A wide range of topics is covered in the Study Guide for CBFA. After completion of the course, the professionals would get a thorough understanding of the terms associated with fraud in the banking industry in addition to market intelligence techniques.
With the advent of technology, types of bank fraud have evolved. Fraudsters are becoming smarter and so is our certification course. But to match the fraud trends, we offer video learning program modules. The Certified eCommerce Fraud Specialist course is designed to align with the changing trends. These 40 Minutes training course covers topics on credit card fraud, wire transfer fraud, e-commerce fraud, etc.
Live Training Sessions
The Certified Bank Forensic Accountant program offers 30 hours of live training sessions. Experienced professionals lead these sessions. The live training session is for 2 months. It is followed by self-paced learning coupled with the learning resources provided. After that, the aspirants will appear for the examination. It is necessary to have a basic knowledge of concepts like financial analysis, investment banking, account management, retail banking, private banking, and wealth management to successfully complete the examination.
Nikhil Parulkar conducts the training sessions for the CBFA program. He has 18 years of experience in the banking and consulting domain. Additionally, he has expertise in forensics, fraud investigation, and training. All personal guidance will be provided by our trainer.
Banking Certification to add value to your profile
Upon completion of the program, the aspirants gain knowledge of forensic accounting, fraud investigation, and also the perspective of the BFSI Sector. One will be able to undertake forensic analysis and the assessment of risk factors. It also involves the combination of analytical skills like investigative measures, investigative processes, and market intelligence gathering.
There are systems and methodologies involved while doing the investigation process. The last two modules viz Report writing skills and Litigation Framework will offer the practical skillset needed to close or complete Forensic Audits.
Upon completion, candidates have the tools and competencies to drive forensic accounting assignments. In addition to investigative report writing and performing due diligence.
Contact Us
Please feel free to call us at +91-9766594401 or write to us at education@indiaforensic.com